Sometimes in life you have to make impulse decisions for what you love. Once-in-a-lifetime moments pass us by often, and for me, taking risks and experiencing these moments are what life is all about. Nothing in the world could have stopped me from jetting to LA — in less than a week's notice — to celebrate the life and legacy of Ray Manzarek, and I feel honored to be able to hold on to this memory for a lifetime.
Ray Manzarek, keyboardist and founding member of The Doors, had a talent that had no limits; a connectivity that allowed him to speak to his fans through his music. Not only did we lose one of the world's greatest musicians and innovators to cancer nearly three years ago, we lost "the most exceptional soul," his son Pablo Manzarek said at Hollywood's historic Fonda Theatre on February 12th — what would have been his father's 76th birthday. "Ray believed music could change the world."
Not only did The Doors change everything for the music world, they changed everything for me personally. Not just because they were the first band I truly fell in love with, but because their music keeps me excited. Every time I listen to a Doors record, watch a live performance, or hear stories not just derived from the band members themselves, but the memories and personal connections the fans embrace, I become more and more fascinated with this band. It seems that everyone has something to say about The Doors, and the sold-out crowd that came out to celebrate Ray Manzarek, in the city where it all began, proved it. I felt like I was surrounded by family at this concert, as the people I met seemed to understand me better than even my closest of friends. Among these new acquaintances were Jose and Luis, two brothers who feel just as strongly about The Doors as I do:
Every time I've traveled to Los Angeles, it's been to chase something: a dream, an adventure or an opportunity that I just couldn't miss. Though each time marked a much different place in my life, The Doors always seemed to inhabit the forefront of my mind. Whether it was squeezing in a trip to Venice Beach to walk across the sand that ignited Ray Manzarek and Jim Morrison's friendship and inspiration for The Doors, or I was seeing my favorite tribute band, Peace Frog, perform one of their signature Doors concert recreations, I always made time to esteem my favorite band. All of these experiences made me a much deeper and knowledgeable fan, but for some reason this trip felt much more elevated than the rest. This time I came here FOR The Doors. To bow my head in their greatness, and to show my respect to the music that means so much to me.
I've seen many powerful concerts, but none so deep to bring tears to my eyes. My heart sank to my stomach as the theatre lights dimmed and the arrangement of photos and videos of Ray flashed across the screen. Accompanying the slideshow commending Ray's life was a recording of "Carmina Burana" by Robert Shaw, a perfect song section in my opinion, as it made the night even more epic than it had already deemed itself to be. A video of Ray's last known interview before he passed away followed this presentation, and when asked if he ever grew tired of playing "Light My Fire," Ray responded wittily, "Do you ever get tired of having sex?" This made the crowd clap and howl like hell.
Not only was the concert an incredible salute to Ray and the legacy he created, it was a huge 'f you' to the disease that took him away from us. Proceeds from ticket sales, merchandise and the silent auction comprised of personal memorabilia from The Doors themselves, went directly to the Stand Up to Cancer Foundation. The incredibly enthusiastic audience involved themselves in the production like a gospel service throughout the night, screaming out things like "We miss you Ray" and "F*** cancer" — most memorably during the opening speech given by LA radio legend Jim Ladd. "We're gonna kick cancer's ass tonight," he exclaimed just as the music set in. In an instant, I heard Jim's voice in my head: Is everybody in? Is everybody in? The ceremony is about to begin.
The one-night-only event marked the first time John Densmore and Robby Krieger reunited to play on stage together in 15 years. Special guests included both well-known and up-and-coming artists, music industry greats and even members of Ray's family, including his older brother Jim Manzarek, who rocked the harmonica on a handful of songs throughout the evening. It was especially fun to watch Robby's guitar guide along each guest performer's very different type of energy. John's drumming was crystal clear as if no time had passed since the first time he played these songs. Seeing them both live in concert and hearing them praise Ray with their eclectic words in-between songs, was a dream come true.
Not only was it obvious that these guests were inspired by Ray and his music, it was clear that they were also deeply affected by his soul and personal being. Since the night was so clearly about Ray and his sound, keyboardist Rami Jaffee of the Wallflowers and the Foo Fighters claimed most of my attention on stage. He graced the keys in Ray's honor for most of the two-hour set with a beaming smile on his face. Then it was time for Nathan Wilmarth, Robby Krieger's touring keyboardist, to honor Ray, who was his teacher and main inspiration to play. It was clear when he started rocking "Light My Fire" that this music was a part of him, and that it will be forever.
The variety of voices and performance styles were the most fun to watch for me. Warren Haynes, longtime guitarist of the Allman Brothers Band and founder of Gov't Mule, impressed the crowd when he forcefully sang his favorite Doors tunes with a soulful bluesy twang. Robby's son, Waylon Krieger, creepily reminded me of Jim Morrison as he sang, not just because of his voice, but because the tone of his stature. He looked as if he was trapped in a different world entirely when he sunk himself into the microphone. But my favorite Jimbo representation had to have come from singer-songwriter Andrew Watt. He freaked me out in the best way possible when he sang my all time favorite Doors song, "LA Woman." I loved how he made eye contact with everyone in the audience for at least five seconds — five loooong seconds. He had the same sexy "give it to me" appeal that Jim sported on stage that had me sickly wishing for recognition.
I was lucky to discover three new female vocalists at this spectacle that I had never heard before. Goosebumps spread across my entire body when 13-year-old Annika Rose put her own unique voice to work for "People Are Strange," changing up its sound completely. Her bouncy, high-pitched voice praised strangeness, in the best possible way. When Emily Armstrong of Dead Sara deeply screamed out "Back Door Man," almost more loud and intense than Jim had ever done, I was instantaneously inspired. She used her entire body to sing out the lyrics by stomping around and shaking her hair back and forth. I even developed a new taste of music when punk legend Exene Cervenka of the band X took the stage. I loved how her voice completely shook up the vibe of the concert. Her band worked with Ray often, and I could tell that she truly missed him and wished he could have been there.
The Fonda's Celebration for Ray Manzarek wasn't your average tribute concert. It was a moment to channel Ray, to sing to him, to bounce our heads up and down mimicking the natural reaction he had when he played Doors songs – his own unique style of headbanging. It was as if we were all designed to bring forth the music with our entire beings that night. It was a spiritual awaking, much like I imagine an actual Doors concert would have been like. The most powerful moments of the night were the ones where the crowd sang along, loud as can be, filling the entire theatre with their best, ravenous Jim Morrison screeches and yells. All it took was that first "yeeeeeeeaaaah" of "When the Music's Over" to reassure me that I was right where I belonged.
The Doors have an attitude that sparked my curiosity years ago and led me down a road I will never turn back from. Instead of playing it safe with cut and dry performance techniques, they expanded their the boundaries by daring to embrace weirdness — not just in their own sense of the word, but as a reflection of the strange days that consumed them. It was so special to see Robby Krieger and John Densmore together again after all the time that has passed, to celebrate their dear friend Ray Manzarek among their fans and those close to them. There was no doubt in my mind that I was meant to be at this concert, and more than anything, I'm grateful that I got to be a part of it all.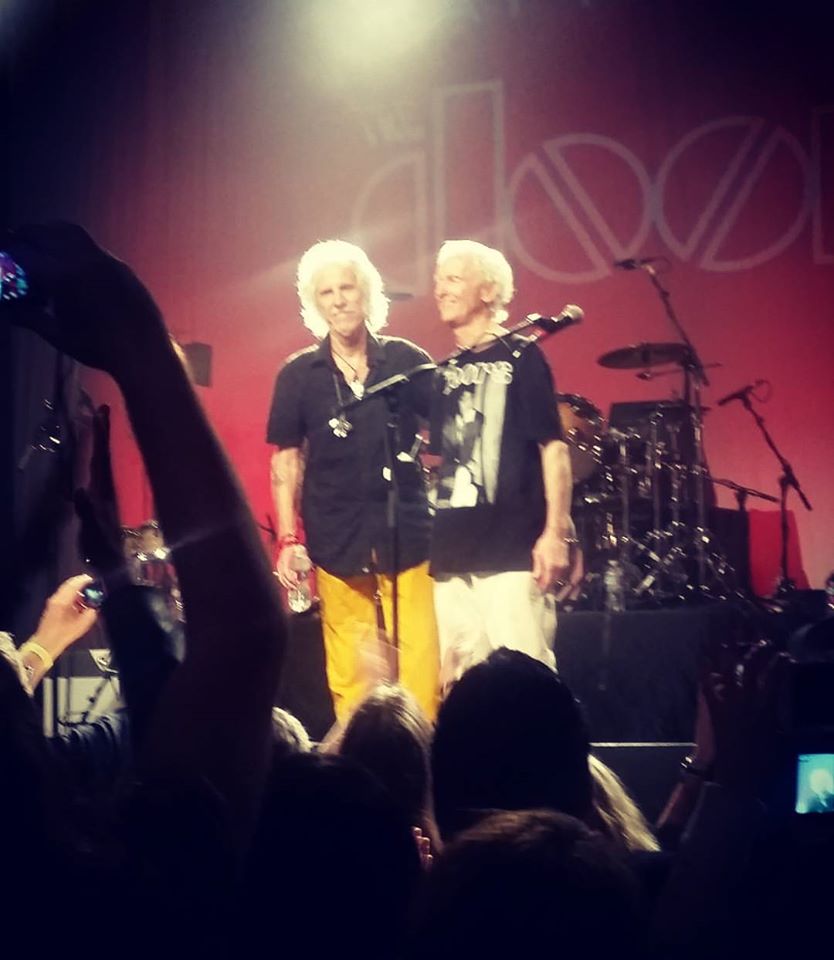 "It's been a good ride." – Robby Krieger