Written By Dane Moore (ZoneCoverage.com)
Against a starting frontline of JaVale McGee, Anthony Davis and LeBron James, Sunday evening's matchup in Los Angeles was the Minnesota Timberwolves' biggest test of their new, small-ball offensive and defensive systems installed this season.
It was a test they failed almost immediately. In just the first four-and-a-half minutes of the game, Davis scored 11 points. His five buckets over the stretch were comprised of four streaking drives to the rim and one turnaround jumper over the top of the Wolves' defense. The fifth bucket prompted a Ryan Saunders timeout and a noteworthy substitution.
Jordan Bell was Saunders' sub, coming into the game for Robert Covington as a second big to play alongside Karl-Anthony Towns, breaking up the Wolves' preferred set up of one guard, three wings and one big. Saunders opted to fight the Lakers' size with strength. Against a similarly sizeable Oklahoma City Thunder team in their previous game, Saunders found a spark playing Bell for 21 minutes — 20 of which came alongside Towns. Prior to that game, though, two-big lineups had been relatively faux pas — Bell and Towns had only shared the floor for 28 total minutes in the first 20 games of the season.
The move to frequently flank Towns with Bell illustrates systemic concessions in the theoretical pursuit of immediate success. The pace and space system deserves credit; it has done a great job of unleashing both Towns and Andrew Wiggins individually. Wiggins is having the best offensive season of his career and Towns is getting up 3s at near-Steph Curry volume while maintaining his typically elite marksmanship from deep. But the surrounding pieces have been wonky. Wiggins has frequently been surrounded by non-shooters on his drives, and Towns is being swarmed anytime he enters the 3-point arc due to similar infrastructural breakdowns. It's critical that Saunders is able to apply some sandpaper to the rough edges of the Wolves rotations if the team is going to remain in the playoff hunt for the final three quarters of the season.
This is particularly important as it pertains to Towns. The Wolves go as KAT goes. Because of this truth, the equation of figuring out what does and does not work best around him needs to be solved. With 22 games now in the books, there is ample tape and statistical data available that can be applied to these decisions. Towns has played 50-plus with 11 players on the roster so far this season. Below is my take on how I've seen those pairings work. It's a look at what we've learned about KAT specifically within this system and with this roster.
Robert Covington
Minutes Played With Towns: 431 | Net Rating: +0.6 | Offensive Rating: 115.0 | Defensive Rating: 114.6
Statistically speaking, the Wolves have not been a very good defensive team with Towns and Covington on the floor together this season. It's a bit concerning that the Towns and Jeff Teague pairing is the only Towns duo that is receiving substantial run and allowing more points per possession to be scored than the Towns and Covington pair.
This is also a bit misrepresentative. Stats don't take in context. KAT's "best" defensive pairings this season have been when he's paired on the floor with Shabazz Napier or Jake Layman. But those two have been out of the lineup so much that their defensive success with Towns is more a sign of happier defensive times earlier in the season than it is indicative of their actual impact next to Towns.
Covington's defensive efficiency next to Towns (114.6 in 431 minutes) is in line with the other players Towns has played with most — Wiggins (110.9 in 380 minutes), Teague (116.1 in 384 minutes) and Graham (113.6 in 346 minutes). That the number is still that high is a bit irksome, though. Comparatively, the Wolves gave up nearly eight fewer points per 100 possessions last season in the minutes Towns and Covington were on the floor together.
One difference back then was that Covington was playing on the wing defensively and not in the post. Last season Dario Saric or Taj Gibson took the second big man defensive duties that have now largely become Covington's. (Towns, Covington and Saric produced a very stingy defensive rating of 102.5 when the three shared the floor last season.)
The last two games against the Thunder and Lakers have arguably been Covington's two best defensive games of the season. Maybe that's a product of him finally feeling fully healthy. But it also may be that Saunders made a consistent effort to play two bigger players next to Covington these last two games — either Towns and Bell or Gorgui Dieng and Keita Bates-Diop.
This shifting of Covington back into the small forward role has allowed him greater opportunities to prowl passing lanes, as he does in these two plays: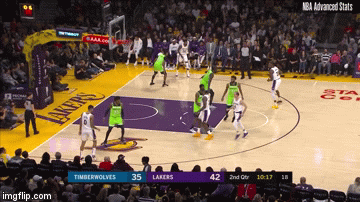 Offensively, Covington also has proven to not need much space to get his 3-point shot off. The ill-effects on offensive spacing with Bell in the game only have a nominal inverse impact on Covington's ability to stretch the floor. It's no surprise that KAT's best offensive pairing this season (other than the small sample with Bell) has been Covington.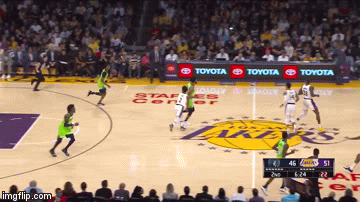 Jeff Teague
Minutes Played With Towns: 384 | Net Rating: -3.2 | Offensive Rating: 112.9 | Defensive Rating: 116.1
Teague's best game of the season came Friday night against Oklahoma City. Probably not by coincidence, Wiggins did not play in that game. Teague only seems to give himself the green light to score when the rest of the options on the floor are completely void of creation abilities.
In that Wiggins-less game, Teague made 11 of his first 13 shots, shooting a perfect 4-for-4 from deep. The Thunder willingly went under the screens that Towns set for Teague, and Teague obliged by canning those looks from deep.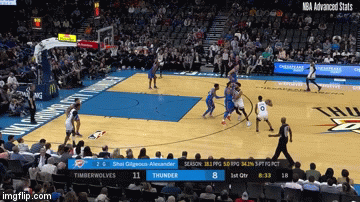 Once the Thunder adjusted by switching KAT's man (often Steven Adams) out onto Teague, he stretched the bigs out to the perimeter and blew by them with his speed.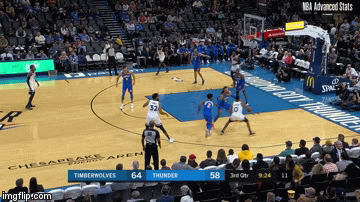 In the fourth quarter, though, when it had become clear that Teague was the Wolves' most dynamic scoring option that night, the Thunder began throwing multiple defenders at him out of ball-screen action — forcing him to pass while on the move.
This play is interesting as it pertains to both Teague and his pairing with Towns. Because Bell is not a shooter, he can not pop out beyond the arc for what would have been a wide-open 3. Instead, Bell rolls into the congested lane with Teague that is already occupied by Towns.
Perhaps the necessary adjustment for maximizing Teague with Towns is to not only stagger his minutes away from Wiggins but also to make sure that when Teague is out there with KAT that the other big man can space the floor. Look how different the spacing is for Teague when Bates-Diop is in at power forward, spaced to the corner.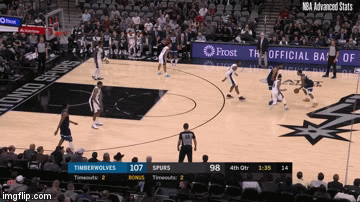 Andrew Wiggins
Minutes Played With Towns: 380 | Net Rating: +2.6 | Offensive Rating: 113.5 | Defensive Rating: 110.9
The Towns and Wiggins pairings have always been one of the Wolves' most profitable duos since Towns joined the team in 2015. The ugly truth behind those positive net ratings, however, was that Towns' net ratings would often be even more positive with the other players he played most with — an indictment of Wiggins. For example, last season, the four players Towns played with most were Wiggins, Gibson, Josh Okogie, Teague and Saric — of those five, Wiggins was only a better pairing with Towns than Gibson.
The difference this season is that Towns isn't carrying the weight of the Wolves' impressive point differential alone when he and Wiggins share the floor. The Wiggins-Towns pairing (+2.6) has outperformed Covington-Towns (+0.6), Teague-Towns (-3.2), Graham-Towns (-6.0), and Okogie-Towns (+0.0). The only two-man pairing Towns has played with substantially that has had more effectiveness than his pairing with Wiggins has been Jarrett Culver (+4.4).
But Culver and Towns have played more than half of their minutes together with Wiggins also on the floor — a credit to Wiggins. The Towns-Wiggins-Culver trio is outscoring opponents by a massive 13.6 points per 100 possession — far and away the best three-man lineup Saunders has granted substantial run. Even as the losses have begun to pile up, witnessing growing chemistry on tape not only between Towns and Wiggins but also Culver is very enticing. Plays like this one — initiated by Culver, through Towns and with Wiggins finishing — allow us to glean what this system could look like once optimized.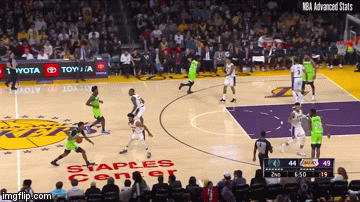 Treveon Graham
Minutes Played With Towns: 346 | Net Rating: -6.0 | Offensive Rating: 107.6 | Defensive Rating: 113.6
In the aggregate, Towns and Graham have been the least effective pairing for Towns. For the most part, these numbers are just an indictment of Graham's shooting. Graham has only made 19.7% of his 61 3-point attempts this season, and the Wolves have made only 31.9% of their 3-point attempts this season when Towns and Graham share the floor — the worst shooting of any two-man lineup pairing for the Wolves that has played more than 30 minutes together.
Opponents have started ignoring Graham on the 3-point line, and they've been particularly interested in using Graham's man as a doubler on Towns in the post.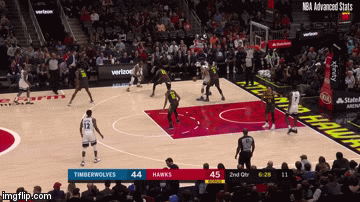 Graham is by no means completely useless; he brings solid and committed point-of-attack defense. In my opinion, Towns looks more comfortable defending pick-and-rolls with Graham than he does with Okogie. Graham is a known commodity defensively where Okogie is more of a wild card. Okogie makes Towns think more defensively due to the chaos he brings. When Okogie started in Graham's place against Dallas, the Mavs blitzed the Wolves in pick-and-roll action.
Particularly at the beginning of the season, when Saunders was just asking Towns to drop back against every pick-and-roll, the defensive synergy between Towns and Graham was there. But now that the Wolves have begun to diversify their defensive coverages, it feels like even Graham's defensive value has been mitigated. Continuing to further limit his play with KAT probably makes sense.
Jarrett Culver
Minutes Played With Towns: 306 | Net Rating: +4.4 | Offensive Rating: 114.9 | Defensive Rating: 110.5
Culver's first quarter of the season hasn't exactly been anything special. Because of that, it's somewhat surprising to acknowledge that both the offense and defense have been very good when Culver shares the floor with Towns. The Wolves have a positive point differential of 4.4 points per 100 possessions when Culver and Town have been on the floor — better than any of the six other two-man pairings the Wolves have run out on the floor for 200-plus minutes.
Offensively, this is explained by Culver's ability to get to the rim within the flow of the offense around Towns. As advertised out of the draft, slinking his way to the rim and finishing around defenders is Culver's best skill.
Defensively, he's fit well into an off-ball role. Culver defends the point-of-attack far more infrequently than Graham or Okogie. That's not his job; playing with his head on a swivel and in passing lanes is. He's also added some Covington-esque scrap to his defensive arsenal.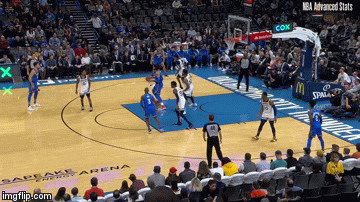 To get the most out of Culver and his currently very limited jump shot, Saunders would do best to play Culver as little as possible with other non-shooters. The offense has been awful when Culver shares the floor with Graham (100.5) or Okogie (103.6).
Maybe one of the answers is to make rotational adjustments to play Culver in the two-big lineups if they are a thing that is here to stay. If the Wolves go with two bigs, Covington can play the Graham/Okogie role of point-of-attack defender and provide shooting from the wing while Culver plays two guard next to Wiggins, Teague or Napier at the point.
Josh Okogie
Minutes Played With Towns: | 285 Net Rating: 0.0 | Offensive Rating: 111.7 | Defensive Rating: 111.7
The plan is for Okogie to move into the starting lineup in place of Graham on a permanent basis going forward. This will ratchet up the minutes he plays with Towns, and that should lead to a greater overall effectiveness of the group. Okogie is essentially just a better version of Graham.
While Okogie is only a decent offensive fit next to Towns because he, like Graham, is a limited shooter, his growth as a distributor has been noteworthy. When Okogie passes up on 3s, he passes on the drive sometimes. And when those passes end up in Towns' hands, the result can be more profitable than a 3-point attempt.
Defensively, as previously mentioned, it still feels like Towns needs more time to get used to defending with Okogie in this system. As an individual defender, Okogie is very solid. But in a team concept, he's just a little overwhelming. Again, time should iron some of this out. It's worth noting that Okogie was KAT's best defensive two-man pairing of the six players Towns played over 600 minutes with last season. Just aesthetically speaking, Towns also seems to really enjoy playing with Okogie.
Jake Layman
Minutes Played With Towns: 198 | Net Rating: +6.2 | Offensive Rating: 107.6 | Defensive Rating: 101.3
The Wolves miss Layman, who has now missed the last eight games with turf toe. In his absence, the Wolves offense has slowed down. When Layman was healthy, the average Wolves possession lasted 13.5 seconds (fourth-fastest in the league), according to inpredictable.com's tracking data. Without Layman these past eight games, the average Wolves possession is lasting 14.3 seconds (13th-fastest in the league). The offense has most noticeably slowed down in transition off opponent turnovers.
This is particularly important as it pertains to Towns. When the Wolves are forced to play in the half-court against a set defense, Towns looks become more forced. He jams up deep and contested 3s more frequently and is often forced to squeeze through double teams in the post. With pace, the defense can't set themselves up to take away Towns.
Perhaps most encouraging, because it was in question after the signing, is the fact that the defense has been really stout with Layman on the floor. The Towns-Layman defensive pairing has allowed nearly 10 fewer points per 100 possessions than any other two-man defensive duo that Towns has shared the floor with for over 100 minutes this season.
Keita Bates-Diop
Minutes Played With Towns: 109 | Net Rating: 0.0 | Offensive Rating: 111.2 | Defensive Rating: 111.2
After seemingly being left to expire in Iowa with the Wolves G-League team, Bates-Diop has plugged the hole Layman's injury presented admirably. KBD's intellect on both sides of the floor has put him in places to distract opponents defensively and to catch them off guard offensively.
Offensively he's a slasher, but the Wolves — and Towns, particularly — have enjoyed the space he's provided on the perimeter. Bates-Diop has made 17 of his 35 3-point attempts this season. Subtract his two stinker shooting games from deep — 3-for-10 against Phoenix and 0-for-4 against Oklahoma City — and Bates-Diop is shooting 66.7% from deep since Layman went down.
This success all but demands his presence in the rotation after Layman returns. The way to make that happen will have to be jumbo lineups. Bates-Diop can function as a small-ball four. But to get him in there with Layman and Covington, Saunders will need to jam KBD in super long lineups like Wiggins-Covington-Layman-KBD-Towns or Culver-Okogie-Layman-KBD-Towns. Things like that.
Even without Layman, Saunders has been messing around with wonky ball-handling groups that prioritize shooting above all else. Culver, who delivers the assist on this play, is 6'7″, and he is the shortest player on the floor here:
Jordan Bell
Minutes Played With Towns: 68 | Net Rating: +0.5 | Offensive Rating: 120.4 | Defensive Rating: 119.9
The sample is too small, statistically speaking, to take too much away from this Bell and Towns pairing. Forty of the 68 minutes they've played together have come in the past two games. The plus and minuses are pretty intuitive, though: Bell provides size defensively to slow down bigger opposing frontcourts, and he often gets in the way offensively.
If Saunders is going to stick with the Towns and another big pairing, we'll learn most, in my opinion, about what types of pieces fit best around that. In other words, Saunders needs to pick his spots with these pairings.
When the other three Wolves are firing from deep willingly and effectively, as they have the past two games, the logic of rolling with it stands. Like this play, where Towns presence in the paint magnetizes both Bell and Bates-Diop's man, this is great: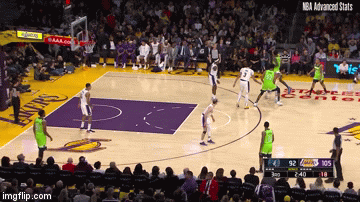 But if we've learned anything about the Saunders and Teague pairing, the coach can't just push the shoot button on Teague like it's a video game. And that's when things become tricky with a second big in there.
Wiggins and Bates-Diop willingly fire from deep and so do Okogie and Culver (even if at a poor clip). That balance of willingness and effectiveness should, and likely will, determine how much run Bell and Towns get. If it's working, Dieng and Noah Vonleh could work as facsimiles here, too.
Kelan Martin
Minutes Played With Towns: 64 | Net Rating: -9.2 | Offensive Rating: 99.3 | Defensive Rating: 108.5
The Martin experience was up and down. Mostly down. In theory, Martin was inserted into the rotation when the Wolves were so short-handed that opponents were consistently running zone against the Wolves. The idea was that Martin's shooting could relieve some pressure against off Towns in the interior. Instances like this one against Atlanta made the move appear logical.
But really, if we learned anything about Martin's extended stint in the rotation, it was that this roster is starved for shooting. Whether it's before the trade deadline or by next season, this Wolves roster not only needs to add shooting to the top-end of the rotation but also to the backend — in the Martin role — if they want to better insulate Towns.
Shabazz Napier
Minutes Played With Towns: 53 | Net Rating: +19.4 | Offensive Rating: 114.4 | Defensive Rating: 95.0
After missing 12 games with a hamstring injury, Napier looks to officially be back. Napier looked very uncomfortable and was ineffective in his first two games back against Memphis and Dallas. But he is now coming off his two best games of the season after the games in Oklahoma City and Los Angeles.
Particularly encouraging was the synergy Napier showcased with Towns. He was an active cutter off Towns post-ups, raising up to the rim with spring multiple times.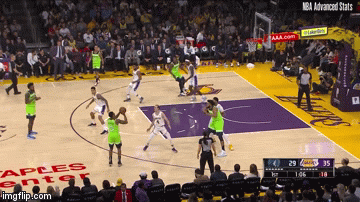 He was also a smooth fit next to Towns when KAT was quarterbacking the offense from the top of the key.
Saunders seems interested in finding ways to get Napier out there with Towns; twelve of Napier's 29 minutes in the the last two games came alongside KAT. To make this happen, Napier will need to embrace an off-ball role, often alongside Teague. (Teague was on the floor in the two above clips.) That multiple point guard pairing, even if Towns is out there, will only work if the Wolves can defend out of that look. The jury is still out on that. It didn't work against Oklahoma City and Los Angeles — the defensive rating was 119.0 in the eleven minutes Teague, Napier and Towns shared the floor in those games.
As a part of the second unit, Napier will more frequently play without Towns on the floor. This season less than one third of Napier's have come with Towns also out there. His role evolves in these situations into becoming more of an individual creator. Even though Towns isn't on the floor during these times, what Napier is able to do still impacts KAT. The Wolves can't afford to bleed out whenever Towns leaves the game. Napier should provide sorely needed shot creation to the second group. This late shot clock action was particularly enticing.