Written By Dane Moore (ZoneCoverage.com)
This version of the Minnesota Timberwolves was always going to be a puzzle. When the Wolves hired Gersson Rosas to take over the basketball operations department this past spring, a box full of puzzle pieces was cracked open. Those pieces began to fall out of the box when Rosas proclaimed that Minnesota was not going to be "Houston North," and a few more trickled out when he decided to give Ryan Saunders a multi-year contract to coach the squad.
Trading Dario Saric to move up in the draft to select Jarrett Culver was another piece. Pursuing D'Angelo Russell in his free agency was also a clue that informed the purpose of pieces like Shabazz Napier, Treveon Graham, Noah Vonleh and Jordan Bell — all of whom are on one-year contracts. All-in-all, though, entering the regular season, the Wolves puzzle pieces felt strewn across the table, a majority of them face down, undefined.
We didn't know who these Wolves were going to be. With this many undefined pieces, the safer bet on the Wolves seemed to be that this jigsaw might not come together this season. And that still may be the case. Starting the season with three straight wins doesn't mean we know how good these Wolves are going to be. What we do know now is what more of those flipped over puzzle pieces actually look like. The picture of this team's identity is coming into focus.
Gone are the days of speculating on how the Wolves are going to function Towns in their offense. Guessing how the Wolves will defend — at least schematically — has become less hazy. We've seen that the changes expected from Andrew Wiggins do not mean a smaller role, and instead just a different emphasis on his shot selection. We know who has started the season as the fifth starter. We know the rotations have gone 10-deep, and that they have only included two traditional big men. That's what we know. We don't how it will work, but we do have a pretty good idea of what it will look like. We've seen it.
A 3-point hungry but balanced offense
The Wolves are certainly bombing from deep. In their first three games, bolstered by 9.7 attempts per night from Towns, they have shot at least 38 3s in all three games. That's new. In the 204 games Tom Thibodeau coached in Minnesota, the Wolves shot 38 times from deep on only four occasions. Thus far, it's only Milwaukee (46.0), New Orleans (45.8) and Houston (45.7) that are averaging more 3-point attempts per game than the 42 per night the Wolves are jacking.
One would think that taking nearly half of their shot attempts from deep (43.4%) after firing less than a third of their shots from 3 last season (31.5%) would lead to shedding other parts of their old identity. But that hasn't been the case. The Wolves are isolating almost as much as they did last season. They're still getting the ball in the post. Pick-and-roll remains a similar-sized piece of the pie. And the frequency of possessions finished with a cut has actually increased.
It would seem that something doesn't add up here. How can they be shooting more 3s without noticeably dropping off elsewhere? The answer is simple: They're incorporating better shot selection — and thus more 3s — into all of their actions.
Isolation
The best example of this infusion of 3s being added to the offense is the volume increase of isolation plays that have led to 3-point attempts. Wiggins is the most glaring manifestation of the change.
"It is a complete change in system and philosophy from what he maybe has been used to," said Saunders after the Wolves' third victory of the season. "Not to say that he was ever wrong by any means, but it's just how we're going to do things moving forward. So with that, we're going to have some situations where he has to break habits, I guess."
When Wiggins hit his dagger 3 with 1:45 left in the fourth quarter against Miami, Saunders joked, "I'm glad he stuck to the shot values." But it wasn't really a joke. Saunders knows for those isolation possessions to hold a real value that the shots need to be the higher value looks. After tallying an effective field goal percentage of 40.8% in 629 isolation possessions as a team last season, that percentage has jumped to 53.8% on 22 isos this year.
Ryan Saunders on this shot by Andrew Wiggins: "I'm glad he stuck to the shot values."
pic.twitter.com/XcynWWMIfu

— Dane Moore (@DaneMooreNBA) October 28, 2019
Towns has also added to the depth of his isolation bag by incorporating a stepback to his 3-point arsenal. Good luck guarding this: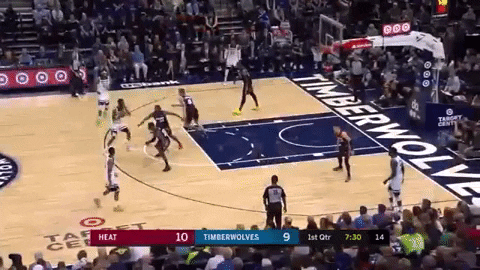 It's unlikely that Towns and Wiggins remain this efficient in isolation — only Houston and Milwaukee had an effective field goal percentage over 50% in isolation last season — but, by both players pursuing their shots from the higher value spots on the floor, it's likely that these Wolves are closer to Houston and Milwaukee than it is to duplicate their dismal isolation efficiency from last season that ranked 23rd in the league.
Post-up Frequency
Towns posted up more than every player in the league last season other than LaMarcus Aldridge. But with the idea that the Wolves were going to be asking Towns to play on the perimeter more in the new five-out baseline set, the frequency in which he walked his man into the post was a bit of a question mark. This has largely proven to be dependent on how the opponent decides to matchup on him. If KAT has a smaller defender on him, the Wolves are seeking that out.
But he is also willingly passing out of the post when the double comes, and the Wolves are responding with team-wide ball movement that doesn't just lead to a 3, but the best 3-point look.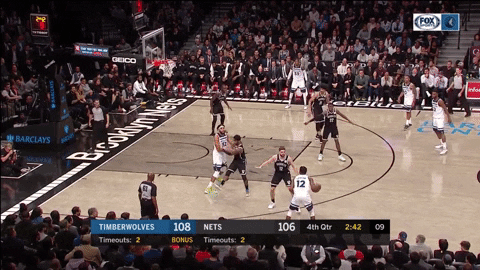 As a team, the Wolves have gone to post-ups on 6.5 percent of their possessions, and they have had elite efficiency, scoring 1.13 points per post-up possession in that small sample. That efficiency has come from feeding Towns — and Wiggins, too — for easy buckets, from seeking kick-outs that have led to 3s, and from protecting the ball. Thus far, the Wolves have only one turnover in post-up situations. That is good for the best turnover rate in the league of teams that have posted up with any regularity this season.
Pick-and-Roll Frequency
Towns and Wiggins have also proven to be critical cogs in the Wolves' pick-and-roll game. In the first three games, the Wolves are scoring 0.98 points per possession in pick-and-rolls — good for the 4th best efficiency in the league, per Synergy.
In these sets, Wiggins hasn't necessarily been distributing — he is averaging 0.7 assists per game (pick-and-roll or not) — but he has been getting downhill. The hope is that the 3s the Wolves have gotten out of pick-and-rolls led by Jeff Teague and Shabazz Napier will also start showing up in Wiggins' repertoire. For now though, the team is content with Wiggins just getting downhill and attacking the rim.
"I just wanted to get him going downhill," Towns said after the opening night victory over Brooklyn that featured a heavy dose of Towns screens set for Wiggins. "I didn't want no midrange. I wanted him to get downhill. He was causing so much havoc going downhill.
"I just tried calling my own plays, trying to get a 15-out, trying to get some pick-and-rolls from Wig where he could get downhill making sure I stayed, hit the guard as hard as possible, didn't roll or didn't pop, just really stuck that pick and make them go one-on-one with Wig against the big."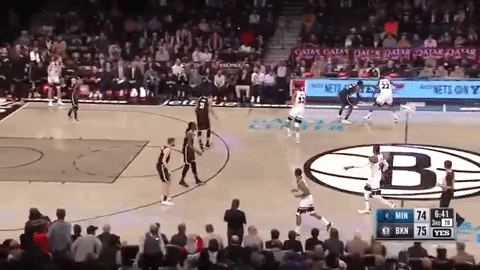 The next horizon for Wiggins will be pulling up short in these downhill situations and kicking back to a popping Towns. This won't exactly be something new; they've done it before. When Wiggins does drag two defenders with him after receiving the screen, he has the over-his-should kick-back pass in his bag. Gotta bring this back:
As it is in the isolation situations, success in the pick-and-roll will be about Wiggins picking his spots and making sure that they are of the higher-value variety. Towns is always a pretty safe bet to be a high-value option. Wiggins knows that. One step at a time, though. It's not only about breaking habits for Wiggins, but it's also about creating new ones.
Cutting Frequency
Towns has found Wiggins on some cuts this season as well, but this is largely the cut game where everyone else is getting involved. Particularly Jake Layman and Josh Okogie have thrived in catch-and-cut roles.
Overall, the Wolves have jumped from 18th in cutting frequency last season to seventh this year through three games. Better yet, cuts are rendering a ridiculous 1.46 points per possession. With extra space from starting five-out, the Wolves wings are catching the ball with a head of steam that has allowed them to not only finish the bucket but also to draw fouls. The Wolves have drawn a foul on 28.6% of possessions when they cut. That's a video game number. Here are a few examples: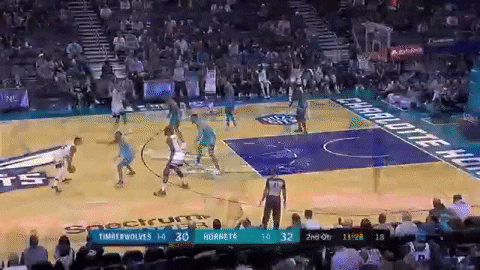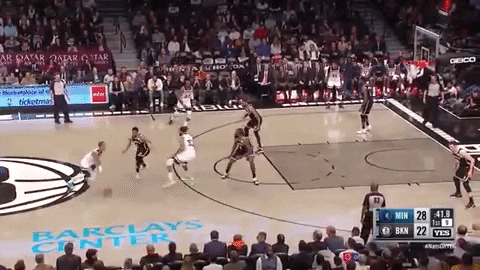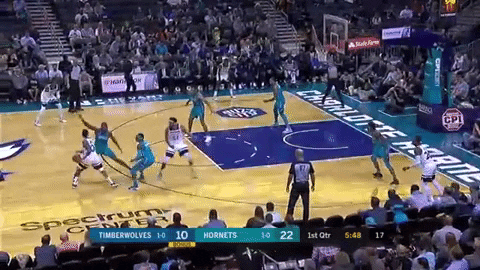 This is the role of the non-Wiggins wings on this roster. It's simple, really: Set yourself to catch and, in a split second, determine if the shot is going up or if you're slashing to the rim. They have to be decisive. So far the presence of these cutters has been an absolute boon surrounding Towns and Wiggins. Now if Culver could only join this party.
A Thibsy defense with a twist
The most important player in Thibodeau's defensive scheme was the center. Because Kevin Garnett, with his back-to-the-basket, was excellent at reading the floor, the Boston Celtics defense thrived when Thibodeau was Doc Rivers' defensive coordinator in Boston. Similarly in Chicago, Joakim Noah's vision helped unleash Thibodeau's Bulls defense.
Thibodeau asked his centers to do what is known as a "drop" against pick-and-rolls. The logic of the drop scheme comes from the notion that by having the big man backpedal with the opposing guard (rather than switching) that the ball-handler will opt to take on-the-move jump shot from 2-point range. The backpedal, though, unlike Garnett and Noah, was something that Towns always struggled to time and read correctly.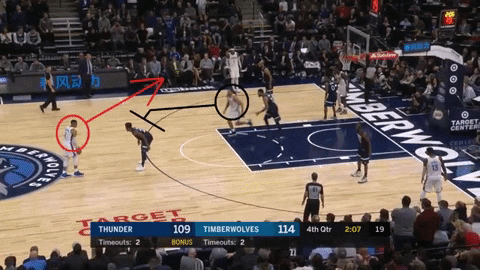 The adjustment the Wolves' defensive coordinator this season David Vanterpool has made this season is decreasing the backpedal distance or, at times, altogether eliminating it. Vanterpool still has the Wolves running a drop scheme coverage, but the drop now starts and finishes deeper. We can see this with Towns (or Vonleh) living nearer to the rim in ball-screen actions. The depth of the drop is decreasing the distance that needs to be covered, and it is allowing Towns and Vonleh to simultaneously check both the ballhandler and the big.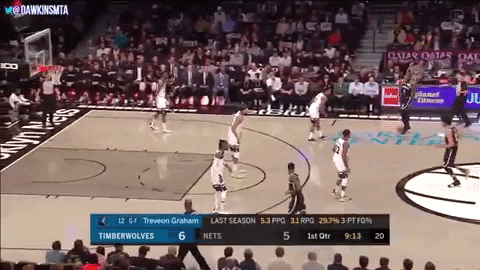 "His ability to play two (players) in the pick-and-roll and not commit himself either way has been really impressive," Saunders said of Towns' clearly improved defensive effectiveness. "His ability to basically play in the pocket and get his hands on the ball without giving himself up completely to the ball-handler. He's been able to stay in between guarding two guys, not let the roll man get behind him.
"He came up with a big deflection in the fourth quarter last game where his hands were quick and he stayed in the perfect technique. And as a coach, that's all you can ask for."
The play Saunders is alluding to is the defensive possession that proceeded Wiggins' dagger 3-pointer that sealed the game. Here it is:
During training camp, Saunders (understandably) was coy about how his Wolves were going to defend ball-screen actions. If anything, he threw fans, and maybe even opposing teams, off their scent by pushing the message that this group could switch a lot. Words like "versatility" and "switchable" were used frequently. This wasn't a blatant lie; the Wolves do have versatile and, theoretically, switchable defenders. But thus far, against the pick-and-roll, switches have only shown up when absolutely necessary.
This play against Miami is a good example of a necessary 911-switch. Here, Robert Covington is not planning on switching onto to Teague's man but does when Teague is unable to get around the Meyers Leonard ball-screen.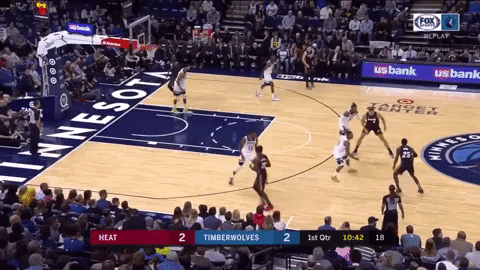 This play is also a good example of the type of switches that the Wolves are actively seeking. Screens of the off-ball variety. Watch how Treveon Graham proactively switches onto Leonard after the ball-screen. Being bigger and stronger than Teague, Graham is able to push Leonard out of the deep post and force him into a fadeaway jumper. If Teague would have had to stay on Leonard, the catch probably occurs far deeper, and Leonard then takes a far better shot (probably a dunk).
It is off the ball and on the perimeter where Saunders and Vanterpool want this group to switch. There may be certain opponents where the Wolves have to switch more on the ball but, for now, they are content just switching two-through-four on the wing.
"It's been largely similar," Saunders said of how they have defended pick-and-rolls game-to-game. "We have certain times and certain lineups that we're going to switch two-through-four, and we're also going to switch one-through-five or two-through-five or one-through-four."
Perhaps Saunders is telling the truth and this will evolve over time. Maybe they will eventually add to the ways in which they defend ball-screen actions. But it is worth noting that Vanterpool ran a deep-drop scheme in Portland, where Jusuf Nurkic functioned as a deep-dropping big that was sparsely incorporated into switching actions. The on-court evidence suggests, broadly, that these Wolves are going to schematically defend similar to how they did under Thibodeau. The twists of change are a deeper drop by the big and more frequent off-ball switching. So far, it's been successful. Through three games, the Wolves defense is allowing 10.1 fewer points per 100 possessions than they did a year ago. That's massive.
If the Wolves are going to compete in the loaded Western Conference this season, it's about being above-average on both sides of the ball. Two years ago they only snuck into the playoffs with the eighth seed because the defense was nowhere near on par with the offense. That year they were fourth in offensive efficiency and 25th on the defensive end. Without Jimmy Butler to buoy the offense, the ways in which Towns and Wiggins are used have to be more efficient this season if they want to match that offensive effectiveness. And on the defensive end, better execution of a defensive scheme that better fits the personnel needs to bolster the efficiency on that side of the ball.
The early returns are good on both ends. The offense is again fourth in offensive efficiency and the defense is 11th. That's a playoff team, but it's also a small sample. Starting 3-0 is great. It certainly beats the alternative. It is worth noting, however, that the first three opponents weren't exactly the gold standard of competition. Kyrie Irving looked great in the opener, but Brooklyn clearly looked to be figuring out how to fit in around him. Charlotte looks like they might be the worst team in the league, and was without their best interior defender (Cody Zeller) to check Towns. And Miami didn't have Butler, easing the defensive burden on the Wolves in Game 3.
Greater tests of the new Wolves identity are set to come fast and furious. Wednesday marks a great challenge against a Philadelphia team that will poke holes in the Wolves' strengths while also applying pressure to their weaknesses. Saturday is on the road against one of the league's premier pick-and-roll threats in Bradley Beal. And then they face the reigning Eastern Conference (regular season) champs. Giannis Antetokounmpo, Brook Lopez and Khris Middleton have proved to be a lineup enigma for the Wolves in the recent past. Again though, 3-0 beats the alternative. It's been a great start. Just ask KAT.
"I mean, you put stock in anything in the NBA," said Towns in advance of the Philadelphia matchup. "I think, more than anything, having a start like this gives guys confidence in what we're doing. And having two games on the road at the beginning of the season, it's a way to bunker in as a group and rally around each other. Obviously, we're happy with where we are. But we're not content."