Written By Dane Moore (ZoneCoverage.com)
The NBA's Summer League is an opportunity. For top draft picks, Las Vegas provides a platform to showcase one's skillset against a level of competition higher than the NCAA. For many other players, Summer League is simply an opportunity to catch the eye of a scout. But there is also another type of player who neither fits in the former or the latter grouping. These are players that fall somewhere on the gradient between stud and scrapper; players who descend on Vegas to use the opportunity to prove that the label they have garnered is not their truth. Naz Reid fell in that group.
"Just to show that I wanna play basketball," was what Reid said he wanted to illustrate with his Summer League opportunity. "That I'm not a lazy guy. Things have been said like that."
The past twelve months of the 19-year-old's life have taught him the harsh reality that what a prospect does in high school and on the AAU circuit may be what gets you noticed, but is not what gets you paid. Reid was ranked 12th in ESPN's top-100 prospects from the high school class of 2018. And because of that, the seemingly realistic plan was that a year at LSU would lead to becoming a lottery pick in the 2019 NBA Draft. That plan did not come to fruition. All 30 teams in the NBA past on Reid… twice. On draft night, he went undrafted.
It's a path completely divergent from the Wolves' first-round pick, Jarrett Culver, who was ranked 312th in his high school class (2017). Culver used the NCAA platform to exponentiate his prospect status. In the draft class that Culver went sixth overall in and Reid was left out of, 13 players from Reid's top-100 list were selected in the first round of this June's draft.
"I actually like it," said Reid, making the most out of a difficult situation. "I get to show that's not who I am. I like to wow people. And when I'm wow-ing people, I just want them to feel bad. They missed out."
To Reid's credit, he took hold of his opportunity in Las Vegas with Minnesota, realizing his underwhelming year at LSU was not his only chance to prove he still deserves to get paid. While many top picks sit out Summer League if the wind blows on them the wrong way, Reid played through a foot injury that clearly sapped a great deal of his explosiveness and limited him to playing awkward, four-minute shifts for much of the tournament.
All-in-all, Reid averaged 11.9 points per game in Vegas on 46 percent shooting while tacking on 5.4 rebounds and 2.0 assists in 18.6 minutes per game. But more than the numbers, according to Gersson Rosas and Ryan Saunders, it was Reid's commitment to playing hard and in a specific role that led Minnesota to pay him. Literally.
"You go from a McDonald's All-American to playing at a high major at LSU to undrafted, that's a hard process," said Rosas. "He deserves a lot of credit because what do you do next? He embraced his opportunity."
At Minnesota's introductory press conference for their first and second round picks (Culver and Jaylen Nowell), Reid was a surprise guest, seated between Rosas and Saunders — flush with news of having signed a four-year deal that can pay him up to $6.1 million through 2023. Reid has a guaranteed salary of just under $900,000 for this upcoming season and non-guaranteed salary figures of $1.5 million, $1.8 million and $1.9 million for three following years.
"We identified a player that went undrafted who we considered a valuable drafted player in terms of our board," said Rosas. "To be able to bring him into the program, evaluate him and see him play in our style and see how productive and talented he is, we were very fortunate that we were able to work something out that worked for him and worked for us."
Just as Vegas and Summer League was an opportunity for Reid, the ability to bring in a 19-year-old prospect on a team-friendly deal is also an opportunity for the Timberwolves. When he took the president of basketball operations gig, Rosas inherited a loaded salary cap sheet with little wiggle room for future flexibility. It's moves like the Reid deal that create the opportunity to get creative in the future, much like Sam Hinkie and, by proxy, former 76ers executive and current assistant general manager in Minnesota, Sachin Gupta, used back in Philadelphia to create a cost-effective core around Joel Embiid and Ben Simmons. Reid, like Jerami Grant and Robert Covington in Philly, is a raw but intriguing prospect that at this price-point makes the move a can't-miss deal for the Wolves' front office. The signing is the first Rosas-Gupta Special in Minnesota.
"Our front office deserves a lot of credit," said Rosas of the signing. "It's an early fruit of our labor."
The fit of Reid in Minnesota extends beyond the price tag. Not only can they afford the contract, as the roster is currently constructed, they can also afford to give the Reid an opportunity to earn a role. After carrying a loaded frontcourt a season ago, the only bigs on the Wolves' current roster are Towns, Gorgui Dieng and the recently acquired Noah Vonleh and Jordan Bell.
While indications are that Robert Covington and Jake Layman will receive time as de facto small-ball power forwards, Reid is still definitely in the mix. Better yet, he possesses a skill many of those bigs don't; the skill the Wolves are most starved for: 3-point shooting. On day one of training camp, Reid may be the best shooting big on the roster not named KAT.
Shooting has always come easy for Reid. He started playing basketball in eighth grade, and while he says "I wasn't really good" back then, shooting was natural from the very beginning. It's clear watching Reid in Summer League and in practice settings that the stroke is both effortless and pure. At a pre-Vegas mini-camp back in Minneapolis, Reid was shooting free throws after the team workout and made 24 consecutive free throws (by my count). His one dribble motion at the line is simple and effective. He's just a pure shooter.
It's also clear that floor spacing is critical to the Wolves' new plan for their style of play. Reid fits that, but there is more to the fit than just shooting, contends Rosas.
"There's not many bigs who can step out and shoot the 3," said Rosas. "There's not many guys who can score in the post that can pass. We're fortunate to have one of the best in the league in Karl. But to have a young guy that you can develop along those lines was an important get for us."
That's the idea, loosely: Reid is Towns Light. In Summer League, it was easy to draw the eye-test parallel.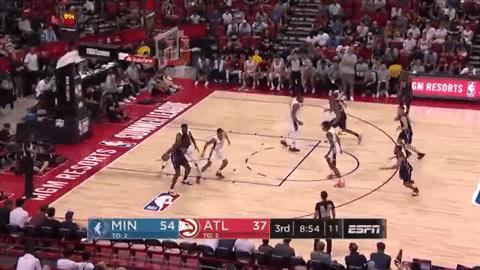 Reid had an interesting answer when I asked him in Vegas who he shapes his game after. While he mentioned the big, flashy names like Kevin Durant and Embiid, the first name out of his mouth was Nikola Jokic.
With Jokic clearly one of the league's premier centers, that goal is, obviously, lofty. But that's what player comparisons are — dreams. And in that dreamy mindset, it's actually a pretty sound comparison on paper. Much like Jokic is the quarterback of the Denver offense, Reid played quarterback in high school and credits that experience for assisting him in being able to see the basketball floor at a high level.
"When I was growing up, I played quarterback, so that's still kinda in my game," Reid explained after dropping four dimes in a Summer League game against Miami. "I look for others before scoring. I'm more unselfish. A lot of people say I should be more selfish. But, I mean, I just play the game of basketball. Just if it's open, it's open. If it's not, it's not."
While the KAT Light is a natural line to draw, really, it is Jokic's ethos — again, in a dreamy world — that more resembles how Reid could be best optimized in the Wolves frontcourt. Yes, Reid received a handful KAT-like post-ups in Vegas where he showcased a flashy spin move over both shoulders (that's big), but Reid knows that's not where his bread is buttered. It's also not where the Wolves are asking him to live.
"There might be situations where you have to go down there," said Reid. "So you still want to be good at it and keep getting better at it. But I'm not really there a lot."
Reid likes to live at the nail (free-throw line) and above, either shooting or distributing when he is square to the hoop, with the whole defense in front of him — like a quarterback overlooking a defensive line.
Whether it's this season or in the future, it seems likely that Reid's game will be elevated in those situations by the presence of twitchy, cutting wings who can look to dip to the basket once the ball is in Reid's hands. In Wiggins, Culver, Covington, Layman and Josh Okogie, the Wolves should have those types of players in spades.
At this stage of his career, Reid needs those types of players, not only on offense but on the defensive end, as well. It's hard to know to what degree Reid's foot was limiting him in Vegas, but his play suggested that he is a player that may need to have some holes covered for him defensively. (Again, similar to Jokic.) That group of twitchy wings should help there, too.
Reid's defense is something he knows he needs to work on. Pick-and-roll situations were a bit of an adventure during Summer League — as illustrated below.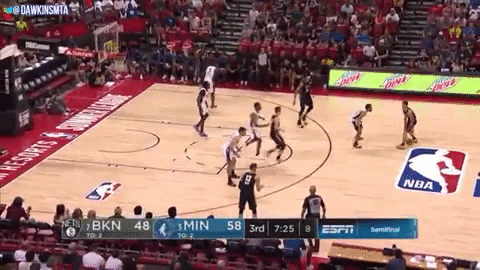 "It's a lot to adjust to," said Reid of defensive principles in the NBA, particularly at the center position. "Throughout my whole life, I played the four. Stretch-four. So, it's really new for me. Just trying to defend the pick-and-roll and switches and things like that. But I'm adjusting to it."
This, of course, is something Towns has struggled with early on in his career. Like Towns though, Reid is big enough and has the lateral mobility to handle those downhill actions when he properly diagnoses the play. It got better for Reid as Summer League rolled on; he learned that a lot of the drop scheme for a center in pick-and-roll defense is just about being big and in the way.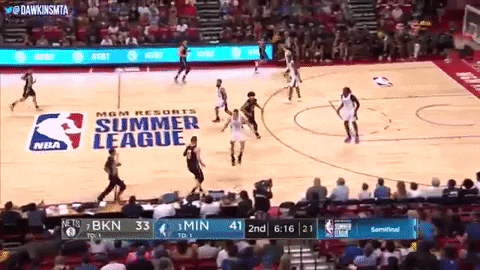 Reid's coaches, who are always quick to point out his age, say it's too early to begin dissecting his game with that level of minutiae. He's a project, they say. There are things that need to be worked on. That's just a given.
Instead, it's really going to a be one step at a time thing for Reid. Even though he has an NBA contract, Rosas made it clear that working in Iowa — in the G-League — will be a part of the development for the rookie. There will continue to be checks and balances put in place to make sure Reid remains engaged, always taking care of the next opportunity at hand.
Reid doesn't need to contribute right away, and that's not the expectation. For him, being part of the Wolves young core is more about setting himself up to be a part of the future. He needs to continue to fight to prove that his one year at LSU doesn't define him. A few weeks of good work in Vegas does not dispell the 'Lazy Guy' moniker completely, it is merely a step in the right direction. Executives around the league are still wary of the notion that, at the pre-draft combine, Reid had a 14 percent body fat composition (higher than anyone measured in the last two draft classes), and that he only bench pressed 185 pounds three times when he was there. "That means he's never lifted weights," one league executive said. "And that's just gotta be a concern because he's gotta play the five in this league."
The battle to prove he can be more rolls on for Reid. In his corner, Reid appears to have the faith of his head coach and certainly his franchise's lead executive. And that matters more. They believe his body and mind are moldable. Rosas gave Reid credit for the work he put in during the summer, but if he is to have his contract guaranteed in future seasons, that's on Reid. The process of wow-ing people needs to continue.
In the NBA, embracing opportunities is what gets you paid. Reid did just that, got paid and now he's a member of the Minnesota Timberwolves. As he said, it's time to wow people; it's time to make everyone feel bad; it's time to prove they missed out.