Written By Dane Moore (ZoneCoverage.com)
Photo Permission From: Minnesota Timberwolves
The Minnesota Timberwolves past week — which included losses to Philadelphia and San Antonio along with a pair of wins against Phoenix — was bookended by massive blowouts.
First, it was a 42-point bruising at the hands of Philadelphia's 7-foot-2 Joel Embiid, 250-pound Ben Simmons and (like him or not — probably not) certified bad-ass Jimmy Butler. Then, a week later, against a Suns team that was missing both their starting center (Deandre Ayton) and backup center (Richaun Holmes), the Wolves beat up Phoenix by 27.
"We just gotta be a rugged team, we can't be a pretty team," was Jeff Teague's response in Philadelphia after the beatdown when asked if he needs more out of Karl-Anthony Towns and Andrew Wiggins. "Right now, we a pretty team, and pretty gets you beat by 40."
To KAT's credit, the Wolves biggest player recognized the opportunity to be rugged against Phoenix, and he did it two games in a row. In a bizarre scheduling situation, Towns was presented with the opportunity to attack the frail Phoenix frontcourt in consecutive games (both of which the Suns were without Ayton and Holmes).
In the first quarter of the first game, Towns went at de facto starting center Dragan Bender immediately, shooting six shots in the paint in the first quarter while getting to the free throw line for eight easy ones. And Tuesday, 10 of Towns' 15 shots came from the paint where he was converting at an 80 percent clip also against Phoenix.
Compare those Towns performances to the Philadelphia game (where Towns took one shot in the paint against Embiid in the first quarter), or to the following game against the equally massive Spurs (where Towns didn't take a shot from the paint until the second quarter) and you can see that size plays a factor for KAT and this Timberwolves team.
Right away you could feel the games shift when something (big) was standing in Towns' way.
But to say the size advantage or disadvantage the Wolves face each night is all about Towns first quarter post touches isn't just burying the lede, it's ignoring more pressing issues and pretending Towns is the only factor here. That's not it. The Wolves do have a big roster and this leads to broader questions that tap into the bigger, long-term picture.
KAT's Foul Trouble
The lede is KAT. And this is because the lede is always KAT. No player in the NBA is under contract further into the future than Towns. For the price of $158 million — or $190 million if he makes an All-NBA Team this season — Towns will be paid to play basketball for the Wolves. The operative word as it pertains to foul trouble being play.
Towns picked up 46 fouls in the 10 games that preceded the Phoenix double-header, dating back to Dec. 30 against Miami (the first of six games Towns picked up five-or-more fouls during the stretch).
After leading the league in personal fouls last season, Towns again has more fouls than any player in the league this year. That's a problem for multiple reasons. This proliferation of Towns' fouling isn't only problematic because Towns (the team's best player) has to come out of the game — throwing off the rotation — but a foul is just costly. Not only do they push the opponent closer (or into) the penalty, fouls can be turnovers. And it is these fouls — the ones on the offensive end — that are perhaps the greatest stain on Towns' otherwise pristine resumé.
The worst fouls come on the offensive end because they turn into an immediate turning over of the ball. Towns has tallied 36 offensive fouls this season, per Second Spectrum's tracking data.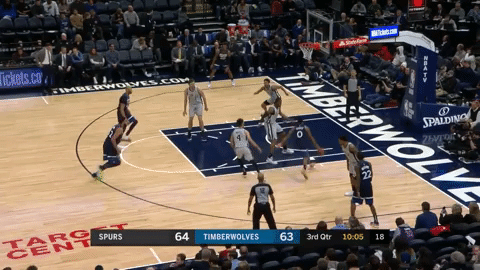 "When you mess with fouls and the foul ratio it's kinda tough," said Taj Gibson after the Philadelphia game when asked about Towns' persistent fouling. "You start to question how physical can you be. You [then] gotta pick and choose when, how physical you wanna go about it. The ref was blowing quick, tick-tack fouls here and there and then when you try and get physical you gotta play the game. It's tough."
To Towns' credit, in these past two games (against Phoenix), he's bringing a different tactic when it comes to the refs. After the first Phoenix game, where Towns only had two total fouls in 39 minutes, he said he was approached by a veteran on the team and the coaching staff about just silencing his demeanor.
"It worked," Towns said. "Got us the win."
My money is on Gibson being that teammate.
"It's going to take some time, but you've got to have patience," said Gibson after Towns (again) fouled out Friday against the Spurs. "You've just got to constantly talk to [the referees]. When you're in the NBA for a number of years you've got to get used to their names. You've got to get a familiarity with them and stay poised. You just have to be ready, stay ready, have a calm demeanor about yourself and just keep playing hard."
It's a game within the game when it comes to the refs, Gibson described.
"In between the game, I'm talking [to them] when the ball is dead, you've got to go over there and talk to them because they're human too.
"You've got to go talk to them and sometimes you tap them on the back and I'm saying 'maybe I was over-obsessive in the way I was talking', or, 'that was a good call.' But we're all in the same job so we've got to have respect for one another."
It is to-be-determined how this muted tactic works for Towns. But the early results are good. In Tuesday's blowout victory over Phoenix, Towns didn't commit a single foul in the first half. It was only the sixth time in Towns' last 57 games (dating back to last season) that he didn't commit a first-half foul.
Team Defensive Rebounding
As mentioned before, the size predicament is not all about Towns. And it's certainly not all about foul trouble. The other element of physicality the Wolves have perpetually come up short with during Towns' tenure is defensive rebounding.
In all four seasons Towns has been on the Wolves, Minnesota has been exactly 25th in the league in defensive rebounding rate, per NBA.com. One, that's kind of crazy it's exactly 25th. Two, this just doesn't make a ton of sense given Towns' reputation of being an elite rebounder. KAT not only has this season's high-water mark for rebounds in a game (27), he is 11th in the league in individual defensive rebound rate (25.1 percent) amongst players averaging at least 25 minutes per game.
But it gets weirder: The Wolves are fifth in offensive rebound rate this season. And get this: In 2016-17 and 2017-18, the Wolves finished both of those seasons fourth in offensive rebound rate. So they're kind of good(?) at rebounding too…
"That's a strength of our roster," said Ryan Saunders of the impressive offensive rebounding numbers, noting he feels his group has capitalized on an understanding of positioning themselves for long rebounds after 3-point attempts. "They ultimately become 50-50 balls when you're getting to the elbows."
(Imagine if they shot more 3s!)
When asked why the defensive rebounding is so different, Saunders response was, "It's a good question. It's definitely something we've got to look at moving forward."
Part of the simple reality is that teams that rotate poorly on the defensive end often find themselves out of position for rebounds. Something Saunders acknowledged: "A lot of times your rotations defensively put you in position, too. So we've got to do a better job with that."
The Tom Thibodeau system that so often relied on the big dropping back to the rim — a tactic Saunders has largely held on to — is critically dependent on the rotations of the players not involved in the play.
This play, in Saunders' home coaching debut against Dallas, is a good example: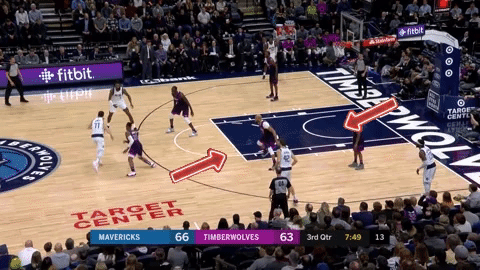 The action is a fairly simplistic high pick-and-roll ran by Luka Doncic and DeAndre Jordan. Given the "drop coverage" the Wolves are running, Doncic and Jordan's defenders (Josh Okogie and Gorgui Dieng) do a good job. Dieng shows enough onto Doncic for Okogie to get back in front, making Doncic's attempt difficult. This miscue comes from Gibson not "tagging" (bumping the rolling big) Jordan and Jeff Teague does not even attempt to box out Jordan on the weak side. The result: An uncontested offensive rebound and an easy dunk for Dallas.
"It comes with ball-watching sometimes," said Gibson of the defensive rebounding problems. "When you think somebody else is probably gonna go get it."
"You just have to get in there sometimes," Gibson continued. "We're kinda in a funk with it, but you just gotta do a little better."
Whether or not the principles of the Thibodeau defensive system are to stay is, also, to-be-determined. But they might stay. The rigidity of the system, even under Thibodeau, dissipated this season. There has been more freedom of defensive motion for the entire team, particularly when Robert Covington is healthy. The Wolves are 18th in defensive rating this season, which doesn't sound like much but after falling 25th and 27th the previous two seasons it is, well, something.
Like many things in basketball, the Wolves defense and particularly their defensive rebounds feel like a few small adjustments away from working. But those adjustments may not just be schematic, which brings us to the big picture.
Changing the Size on the Roster
With Gibson's contract expiring at season's end and Dieng's role on the team continuing to diminish, the Wolves may be ready to mix things up in the frontcourt. Towns' presence is known and Dario Saric's is assumed, but deciding how they round out the group — with a third big — is, in my opinion, an underrated subplot. The Wolves front office can go in three different directions:
Generally, stick to the status quo. Saric could slide into Gibson's role and another traditional big (maybe even Gibson) could be signed to fill Saric's current role.
They could go smaller. In the playoffs, against Houston, the Wolves had their greatest success going small, shifting Jimmy Butler to the power forward position. Saunders (or whoever is the coach next year) could, again, get creative here. Covington (or even Wiggins) could slide to the four and the Wolves could run that small-ball unit when Saric rests. Even super-small-ball could happen when Towns rests, toying with a Saric and Covington frontcourt.
Or, they could go even bigger. The Wolves could acquire a big body that effectively shifts Towns to the four — something he only half-does with Gibson.
Because the first two options are fairly straight-forward, and wouldn't require many roster configuration adjustments, let's focus on option three. If the Wolves were to choose to fight their size "problems" with size, it's critical to pick the right type of size.
Remember, the Wolves did start Towns and Dieng together for a full season in 2016-17. But Dieng was a second big who confined himself to the midrange-and-in on offense and wasn't particularly thwarting on defense.
The dream would be a big alongside KAT on offense who didn't clog the paint but stifled all paint activities while on defense; perhaps completely absorbing the five-man duties Towns has frequently struggled with.
Marc Gasol has reportedly been made available by the Memphis Grizzlies. Yes, Gasol who turns 34 next week does not fit Towns' ideal age range but he definitively checks the above "dream" boxes of the super-big strategy.
Gasol makes $24.1 million this season, meaning the Wolves could make the salaries match by sending out Gibson ($14 million) and Jerryd Bayless ($8.6 million). Surely, the Wolves would need to sweeten the offer with a first-round pick and perhaps Tyus Jones ($2.4 million, expiring at season's end).
However, Gasol's $25.5 million player option for next season presents yet another wrinkle of uncertainty for next season that the team may not be able to afford. Teague also has a $19 million player option that if exercised would almost definitely push the Wolves into the luxury tax for next year. The ambiguity and tax probably make this option a no-no. But it's the idea that counts. And ideas are fun.
I asked Dave Joerger, who coached Gasol in Memphis, to compare his former big man to Towns when Joerger came to town with his Kings team earlier this season. I found his answer enlightening. While Joerger certainly wasn't picturing the pairing when he was speaking, his answer kind of paints a pretty picture.
"Marc, I think, is a better passer," said Joerger. "But I think Karl is a deeper shooter way earlier in his career. Both are big-time competitors."
If Gasol doesn't happen at the deadline — and, again, that's likely — there are poor man's versions of Gasol who would provide floor spacing for Towns through their passing and shooting abilities. Brook Lopez has stretched the floor wonderfully for Giannis Antetokounmp this year in Milwaukee and Dewayne Dedmon, to an even lesser degree, provides some of that for Atlanta. Both could be had for the midlevel exception the Wolves will have this summer.
There are also guys who are just massive but, unfortunately, can't shoot. Brook's brother, Robin Lopez, is set to become a free agent once his deal expires in Chicago. DeAndre Jordan will be an unrestricted free agent, as well. Aron Baynes can become unrestricted if he turns down his player option from Boston. All three players could fit the Wolves spending power limitations. (Who knows what Jordan will get?)
And then there's Paul Millsap who could easily see his $30 million team option for next season turned down in Denver, making him a free agent this summer. Millsap, who has helped bolster Nikola Jokic and the Nuggets defense, would leave Towns at the five while additionally providing the brawn of Gibson but with more floor spacing. The question is: Would Millsap sign for the midlevel exception? Seems unlikely.
The dream, if you want to go big, is Gasol. It's a longshot but other currently invisible options — or ones I'm simply missing — loom. The league's axis shifts constantly. Eventually, a big will become available at a price the Wolves can afford. Minnesota's bizarre relationship with size and the notion that they've never really tried using KAT as a true stretch-four should keep their eyes constantly scanning the market.
The Wolves are a few small adjustments away from making this KAT experience work. Maybe it's time to consider "big" adjustments. Doing so would be a true zig to the league's zag, while also being fairly modern because that's just what KAT is. For these last two games against Phoenix, being big sure felt like a welcome change.
---