Written by Zachary Bennett
The month of August usually yields little in terms of NBA news. So, fittingly, Friday night, after Rick Bonnell reported the Minnesota Timberwolves and Portland Trail Blazers were close to making a "major deal," basketball heads waited, desperate for further info; hubbub ensued. Pundits began to speculate, sharing hypotheticals until Jon Krawczynski, a well-known, trustworthy, Minneapolis-based AP reporter, instructed the Twitterverse to stand down. More than a month has passed since the two sides — Minnesota and Portland — last spoke, according to him. Krawczynski also offered a reminder worth acknowledging on Saturday in regards to Anthony Bennett, embedded below.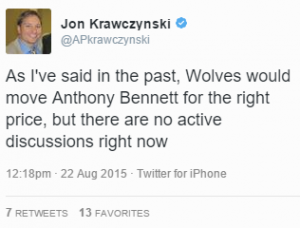 The apparent willingness to trade Bennett is not unusual. Marc Stein reported as much before the draft in June. Nevertheless, a review of these circumstances is worthwhile as Bennett, much like last year, approaches another critical season in what has been thus far an underwhelming NBA career. Thinking back, he probably played better with the Wolves than he did while in Cleveland, but it is tough to deduce how, and in what way(s) Bennett improved as a second-year player. This point could be moot, for a few reasons, regardless.
The Wolves must decide by Oct. 31 whether to extend Bennett's contract through the 2016-17 season. If there were a lack of depth at his position, and if it did not cost just under $7.5 million, this might be worth doing.
The Wolves are not shorthanded at the power forward — the 4 — spot. Kevin Garnett, Adreian Payne, Nemanja Bjelica, Damjan Rudez, Shabazz Muhammad and Tayshaun Prince are all capable and arguably better suited to fulfill that role, depending on the matchup. Additionally, aside from Garnett, each of these players will make less money than Bennett this season — Payne, Muhammad, Prince and Rudez, will earn less than half as much. Toss Karl Anthony-Towns and Gorgui Dieng into the mix (Nikola Pekovic, too, for those feeling truly optimistic) and what is left is an incredibly crowded frontcourt.
***
On Sunday, roughly 30 hours following Friday's spinning of the rumor mill, Team Canada took the floor against Argentina, in the first game of the Tuto Cup. Bennett scored 10 points and 13 rebounds in mostly pedestrian fashion; he shot 4-of-9 from the field including two explosive dunks, which he is known to do, and played a game-high 33 minutes, 21 seconds. Canada sustained a double-digit lead throughout three quarters until Argentina rallied to tie the game with just under four minutes to play. Another Timberwolf, Andrew Wiggins, broke the tie, hitting a go-ahead jumper in the final minutes, and Canada went on to win, 85-80.
On Monday, Bennett tallied 16 points and two rebounds in an 80-64 victory over Brazil, a significantly weaker opponent.
Yesterday, in 21 minutes against the Dominican Republic, Bennett scored 12 points on 5-of-14 shooting. Wiggins, for those curious, went five-of-nine from the field en route to 11 points. Canada defeated the D.R., 86-74.
Canada, poised for a deep run in the FIBA Tournament of Americas, must finish in the top two to earn an invitation to the 2016 Olympic Games. That is unless Brazil makes the championship round, in which case Canada could qualify by finishing third. Preliminary rounds begin Aug. 31. For the full schedule, click here.
FIBA competition, at the very least, is providing Bennett otherwise unavailable, invaluable, in-game repetitions. These will help him keep in shape, if not improve. So, maybe — just maybe — he arrives at training camp a vastly improved player. There is an outside chance another NBA club takes a liking to Bennett during his time with Team Canada. If that is the case, maybe the Wolves receive an enticing trade offer for him before the season or prior to the trade deadline, although the latter seems more likely.
Bennett, as well as Wiggins, is crucial to Canada's unwavering accession toward prominence at the international level. However, as of now, only Wiggins is thought of as an indispensable component in the Timberwolves similar, slow-but-steady climb from beneath the NBA's doldrums, into relevancy, and potentially, eventually, postseason contention. If Bennett does not receive a club option for 2016-17 by the end of October, his days in Minnesota may be numbered.
Zachary Bennett isn't sure if he should be writing in the third person. He's a contributor to Cold Omaha, covering the St. Paul Saints, Minnesota Timberwolves and Lynx. Bennett can also be found at Canis Hoopus and Hardwood Paroxysm. Twitter: @ZacharyBD