At 24 years young, I have much to learn. So much so, I still catch myself stubbornly denying it from time to time. Though I've already overcome many losses and disappointments in my life, I'm smart enough to know there are a million more lurking around the corner; waiting patiently to have their own personal shot at my mental stability. Despite this hidden fear of what's to come, I have always managed to keep my positive energy beaming, because in truth, I have a wonderful life full of blessings.
So far, the only thing I know about this strange world for certain is that it's ultimately going to take my effort and my confidence to get me just where I want to be. Like many rocker spirits my age, I regularly turn to music to help me understand my sometimes consuming feelings of self-doubt. I'm inspired most by those who've transformed their discouragements into lyrics, riffs and kickass live creations that forever changed the music industry and the opportunities that sprout from it. Since the beginning, Mötley Crüe and Alice Cooper gave the finger to disbelievers — something I can really dig, because I understand how it feels to be overshadowed by the big-headed fat cats of the world.
Every time I see one of my favorite bands live, I learn a little more about myself; what truly helps me get along. It's quite easy for me to take music literally, especially when its lyrics hit home, but seeing Mötley Crüe and Alice Cooper last Wednesday night at the Xcel gave me a more relaxed feeling than most other concerts I've attended. It was an entirely different experience than seeing Fleetwood Mac there just months earlier. At that point in my life I was in need of some serious guidance; I was begging the music to speak to me. This time around, however, everything in the world didn't seem so serious. All I wanted was to have a little (or a lot) of FUN — something so easily attainable in every day life, but often masked by our daily responsibilities that tend to fog our carefree sense.
My drumming instructor Todd Trainer of the band Shellac said it best, "Rock and roll is not science. We go to school to learn science. Rock and roll is party." Anyone in the sold-out Cooper/Crüe crowd will tell you that night was nothing short of a party. Everyone was screaming and jammin' along, most definitely my KQ crew! With each song I became more and more infatuated with the audience, so much that I actually think I watched them more than the actual show. Rocking out in front of me just rows up from the stage was 10-year-old Dakota. It was his first concert ever, and he did an awesome job honoring the guys up on stage by throwing his rock and roll hands up during every song. That's great parenting right there.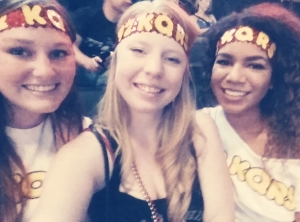 I get down to Mötley Crüe hard, mainly because they make me feel freakin' amazing. It's really nice to know that no matter how over-worked my days are, I can always attend a high-powered rock and roll concert and headbang my stress away. It felt incredibly special to be there, sporting my KQRS sparkly headband I crafted for myself and the two newbie interns working with me. They did an awesome job representing the station and it was clear they truly loved the music. It was really nice to have people like that by my side that night.
As soon as Alice Cooper blasted the night off, I was overcome with gratefulness for something I just don't recognize enough: my hearing. During the band's wicked performance of "Poison," I noticed a man under a spotlight in the crowd transforming the spooky, theatrical lyrics into sign language to a small group of hearing impaired fans. It was memorizing, and sparked my attention more-so than the show, probably because I had already seen the performance this past November. I felt deeply thankful I could hear the music. I owe my ability to listen to music EVERYTHING, and it saddens me that some have never even had the chance. It's funny, something I never really think about but should be acknowledging every day hit me in the face that night. Needless to say that group of fans was rocking hard, even without the loud guitar screams, and the staff member doing the musical sign language was truly amazing at what he did.
The insane pyrotronics and Tommy Lee's roller coaster, club infused drum session made this concert extra fun. I got to rock out hard and shake my booty all at the same time! It was a powerful way to close out the band's run together. But even with all the loud explosions and moving mechanics, only one thing truly got me going that night…the badass in black: Mick Mars. He does something absolutely crazy to me. He's got a sexy grim reaper vibe going on that I so oddly love. His handwork is scary good, and if that's how he graces his woman, she is damn lucky. Now don't get me wrong, the entire band is great, especially together, but there's just something about a great guitarist that steals my heart away.
I was reminded once again at Mötley Crüe's farewell tour that no concert is ever like the other. I was overwhelmed with happiness to be there doing my thing, representing the station I grew up on. I felt thankful for the gifts in my life, and humbled by the good feelings that overcame me that night. I'm secretly hoping the Crüe ditches this whole "final tour" idea and decide to regroup at least one more time in the future, when they're as old as the Stones but just as shockingly talented. It just feels too damn good to let loose and enjoy the party that is rock and roll for it to be the end.